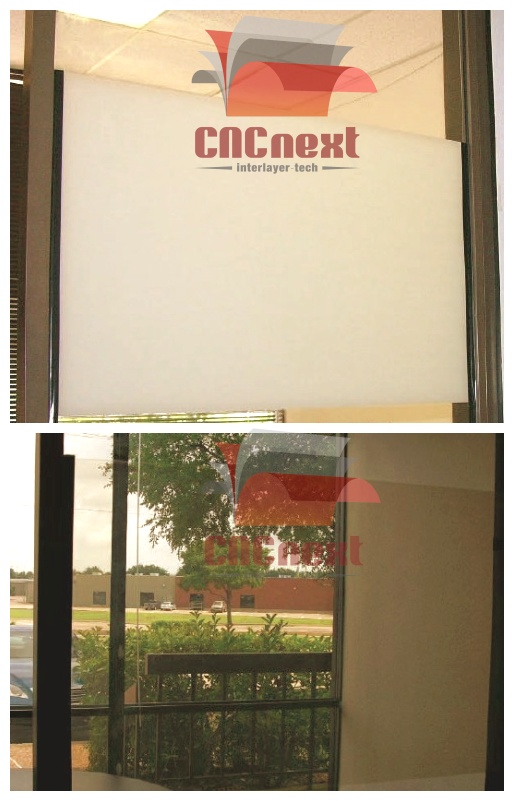 SMART GLASS (LAMINATED GLASS, PDLC GLASS, PRIVACY GLASS)
The (PDLC) switchable film can be laminated with two glass with EVA film/PVB film, creating a solution with optimum clarity and performance. Another major factor is safety properties as laminated glass owns.
Our standard switchable smart glass film (double glazed) can be laminate with toughened/tempered glass in thicknesses 4mm, 6mm, 8mm, 10mm, 12mm and 15mm.
A simple ON – OFF mode switches the glass from being clear (transparent) to frosted (opaque). In its frosted state, the film acts as an electronic blind providing privacy and security for any glass, window or partition. Multiple panels can be joined together to create large switchable glazed walls or partitions.
The smart laminated glass can also be used as a high definition rear projection screen to display corporate presentations, TV images and videos.
[Smart Glass Specification]
Switchable glass
Power – 110/220V AC
Frequency – 50/60Hz
Switching – less than 1 second
Operation – (on) transparent (off) opaque
Light transmittance – On (75%) Off (67%)
Haze Coefficient – On (7%) Off (87%)
[Test Procedures on Smart Glass]
Tested over 3 million switches
High temperatures – >70 degrees C (over 14 days)
High temperature / humidity – >50 degrees C / 95% RH (over 14 days)
Cold temperatures – minus 20 degrees C (over 14 days)
[Smart Glass Features]
Switches from clear to frosted
Any type / thickness of glass are available for laminate
HD projection screen
Safety properties
UV protection for human being and goods
[Recommended Smart Glass Applications]
Privacy / security glass
Glass walls / partitions
Vision panels / doors
TV / video screen
Presentation display
Furniture / displays
If you require any further information or pricing, please don't hesitate to Contact Us.
Mail: [email protected]
[email protected]/
[email protected]